Marketing Mutiny
Join the Conversation!
Robbie has recorded a video for us today. Click on the image below or click here to watch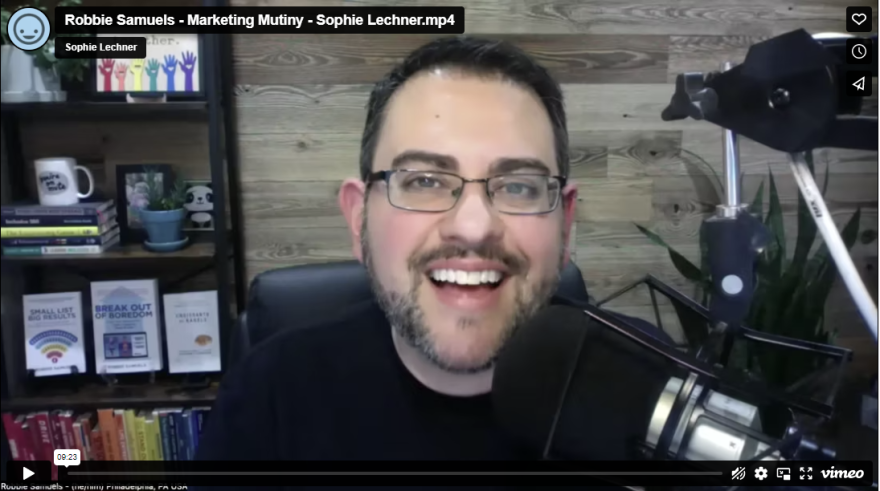 Robbie's question to you:
I believe you already know 80% of the people you need to know to be successful in the world. Knowing this, how would you approach your marketing?
Join the conversation!
Find out what today's contribution has sparked and share your own experience, thoughts and questions by heading over here to join in the discussion.
---
Robbie Samuels is an event design consultant and executive Zoom producer recognized as a networking expert by NPR, PCMA, HBR, Forbes, Lifehacker, and Inc. He has also been recognized as an expert in virtual event design by JDC Events.

He is the author of three books that have collectively received over 600 Amazon reviews and reached #1 Best Seller in 29 paid categories in the U.S., U.K., Canada, and Australia: "Break Out of Boredom: Low-Tech Solutions for Highly Engaging Zoom Events," "Small List, Big Results: Launch a Successful Offer No Matter the Size of Your Email List," and "Croissants vs. Bagels: Strategic, Effective, and Inclusive Networking at Conferences."
He is a professional speaker, TEDx speaker, HBR contributor, host of On the Schmooze podcast and of #NoMoreBadZoom Virtual Happy Hours.
Robbie is an openly transgender owner of Robbie Samuels LLC, a certified LGBT Business Enterprise.
Robbie's gifts to you:
Access to a ton of resources related to each of his books!
Find Robbie Online: Website - Facebook - LinkedIn - Instagram
---
Catch up with any days you've missed...
If you've missed any emails, or you joined the project late, then click here to catch up.
---
Copyright © 2023 Sophie Lechner, All rights reserved.